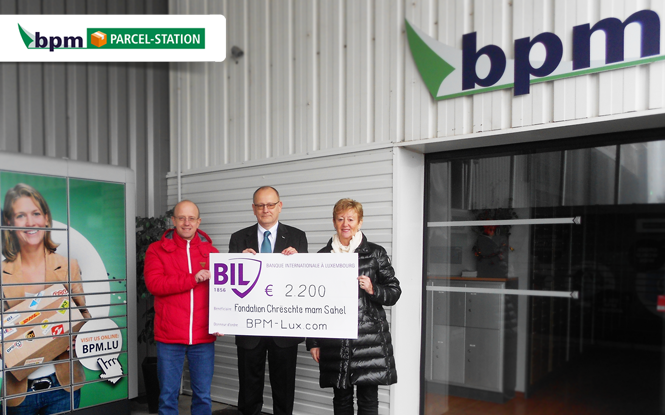 Supporting the children of Burkina Faso
BPM-Lux offers a cheque of 2200 Euros
BPM-Lux has, like every year, repeated its support for the children of Burkina Faso in 2015. Robert G. Thiemann, managing director of BPM-Lux, handed of a cheque worth 2200 Euros to the Chrëschte mam Sahel – Chrétiens pour le Sahel organisation, represented by Alain Lentz, coordinator, and Marie-Josée Frank, responsible for fund raising.
Also, a Christmas-Card campaign was sent out via email to all BPM friends, partners and customers, inviting them to support the cause and to bring more awareness to the foundation.
Burkina Faso is one of the poorest countries in the world, in which the ONG works tirelessly to run support and development projects thanks to donations and the devotion of its members. Mr Thiemann congratulated the representatives of the organization for their work, and is grateful for their long-lasting relationship.
Please click here if you too wish to support the Chrëschte mam Sahel foundation.
Photo, from left to right: Alain Lentz, Robert G. Thiemann and Marie-Josée Frank