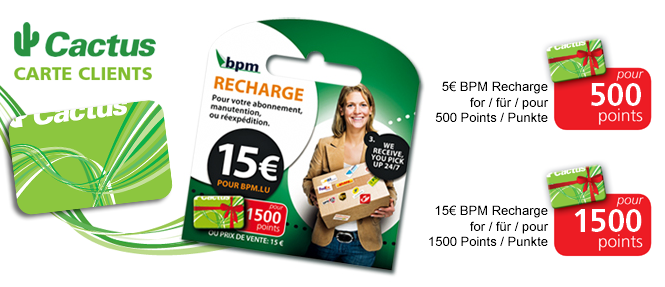 Free handlings and transfers? Not really, even though it feels like it with your Cactus Card:
So you live in Luxembourg and own a Cactus card?
Chances are that you do, and that your points collection is increasing steadily.
Are you looking for ideas to trade in your loyalty points ?
Here's one:
You can redeem Cactus points for BPM Recharges at any Cactus cash register in Luxembourg.
Just look for the BPM Recharge cards near the check out:
- You get a 5€ BPM Recharge for 500 Cactus Points
- You get a 15€ BPM Recharge for 1500 Cactus Points
Whether you use your recharges for purchasing credits for transfers and handlings or paying for forwarding, it must be one of the most lucrative ways to reinvest your Cactus loyalty points and make your BPM experience even more attractive.
Give it a try and save money.